This probably should have went in the last post I made today about E71 and a Mac. When your trying to connect to a wireless network thats usings Mac security, there is a good chance your going to need your E71's Mac address to access the wireless network.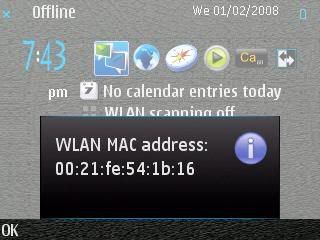 To find your Mac address you need to type in the following code from your E71's homescreen...


*

#62209526#



From there you will see your code that you must write down and punch in to the field that is asking for it. After this you should have access to the network.

If anyone else has any tips about finding the E71 and a Mac computer please leave us a comment below and share your knowledge.