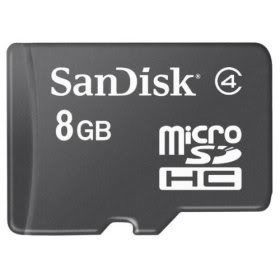 When you buy the Nokia E71 it comes with a 2gb microsd card. But is that really enough? Between all your photos, music, videos, and documents it would be really nice to have more memory. Thats why it's great that the E71 supports microSDHC. This means that a card up to 32gb will work with the E71.
As of right now the highest microsd card available is 8gb. The 16gb cards are supposed to be coming soon but so far they haven't been released. SanDisk is pushing hard to wipe out their 8gb inventory so they are practically giving them away.
Amazon.com has a great deal right now on SanDisk 8gb microSD cards. For only $30 bucks you can get without an adaptor.
LINK
If you need a card reader that plugs into your usb port you can buy the bundle for only $33 bucks.
LINK
The second option will give you faster data transfers but you have to take the card out of the phone. If you don't mind slower transfer speeds and don't need a reader go with the first option. All you'll have to do is plug in your E71's usb cord and put it in data transfer mode.
Have you already upgraded your memory? Do you think 16gb would be necessary for the Nokia E71?