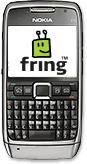 Just letting you know for those
Fring
lovers that the application is
officially compatible
with the Nokia E71. Some people have been using a different version but not all the functions were working. Everything is supposed to work fine now according to Fring's blog. Fring is one of the best solutions for Voip on the E71, allowing you to make internet calls using Wifi or your 3g connection.
From the
Fring Blog
:
So you had some time to see what your new and shiny E71 can do. To be honest with you, we think it's a wonderful handset too. But, don't you think it's time to get it fringing and not just ringing?

Yup, we think so too, so we're glad to announce that we've just released a brand spanking new version for the E71. To get it, simply go to our download page, choose your handset, get an sms, click on it and you're ready to go.
Some of the features of Fring
...

- stay connected wherever you go with your Skype, MSN Messenger, ICQ, Google Talk, Twitter, AIM & Yahoo! buddies on your mobile
- save on your phone bill by placing local and international calls over the internet, rather than costly airtime minutes, & free chat rather than SMS
- with presence status for all of your contacts
- send & receive your favorite videos, music, games, ringtones, docs & more with fring's new file transfer feature
- using your SkypeOut account or SIP provider
- just pick a contact and hit the green button
- all you need is your mobile phone! No need for a PC, WiFi or special hardware

If you haven't tried Fring yet you can see how it looks on the Nokia N95 in this video below. Everything works pretty much the same on the E71.



Click here to download Fring on your Nokia E71. It's wise to have a data connection or use only Wifi when using Fring.

p.s. I know I haven't been able to answer some questions on this blog the past few days. My hard drive crashed and I have been without a computer. All is just about back to normal now so stay tuned for new articles and lots of questions answered in the Help section.